Can A Damaged Water Tank Be Repaired?
Storage water tanks are designed to hold huge quantities of safe water for commercial uses. That's a lot of water pressure. So it's no surprise that water tanks can be susceptible to damage.
Damaged water tanks may show signs of corrosion or rust from water pressure straining the structure. These things can cause contamination of the water. Additionally, tanks may have cracks where water leaks through. This deems water unsafe as it allows further contamination by bacteria and foreign materials entering the tank.
When these things happen, you might find yourself asking the question 'Can A Damaged Water Tank Be Repaired?'. You might want to know whether your tank can be repaired or if you have to get a new one installed.
And that is what this blog will include.
What Are Common Problems With Water Tanks?
Certain conditions can lesson the life expectancy of some water storage tanks, meaning more repairs are necessary.
If these obstacles are altered, the problems can be avoided. Some problems are easier to deal with than others.
Steel metal tanks, for example, are incredibly durable. However, being in a location where air is salty will speed up corrosion. So to prolong protection, steel tanks may be coated to add a layer of protection.
It's common, over time, for sand or residue to build up on the inside of the tank. But draining, rinsing, and refilling the tank will easily fix this issue.
How To Tell If My Water Tank Needs Repairing
The difference between repairing and replacing your water tank depends on the state of the tank. Some issues may be manageable with a DIY repair whereas others may need experts.
As storage tanks withstand continual high pressures from water, the piping can shift and cause leaks. Regular inspections of your tank will help you maintain the condition of your tank.
The less time your pipe is leaking, the less stress is causes on the rest of the storage tank. And therefore, you won't need to replace the storage tank – only the broken parts. Checking that the pipe is fitted correctly is the easiest way to avoid this from even occurring.
Fire damage to a water tank can either result in repairing or replacing. If a water tank sustains fire damage, plastic and metal is susceptible to melting and warping. These are the type of tanks that would need replacing after a fire.
Concrete tanks may only need repairs. They can stay mostly unscathed from fire damage but the pipes can melt or warp, so only they would need replacing.
Bigger problems though, such as egregious rusting, may result in needing a complete replacement.
For example, if the rust damage is tiny it can be temporarily repaired with items sold in hardware stores. But if the rust perforation is large and running down the tank, that means rust is also on the inside. This is when the tank will need replacing.
Rust damage can cause materials like steel to become incredibly thin so any type of handling could lead to the tank cracking or bursting open.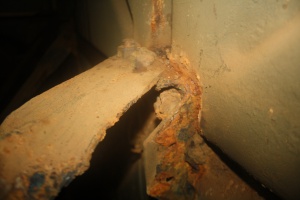 Why Choose Cold Water Storage?
Here at Cold Water Storage, we have expert knowledge thanks to 30 years of experience.
Our expert knowledge makes us leaders in the water hygiene industry.
Get In Touch
We can offer you tailored advice suited to your needs.
If you think you might need a replacement or would like water tank repairs, then get in touch today!
Call us at 01943 872 311 or you can email info@coldwaterstorage.co.uk.